MUMBAI
:
Maharashtra
climbed a notch on Friday to reach the sixth position among states that have vaccinated the most number of healthcare
workers
since the nationwide drive began on January 16. A total of 12.7 lakh health workers have got vaccinated in the country so far.
Karnataka that has vaccinated 1.8 lakh is at the top followed by Andhra Pradesh that has inoculated 1.27 lakh of its health workforce. At the third, fourth and fifth positions are Odisha (1.21 lakh), Telangana (1.02 lakh) and West Bengal (80,542). In all, four states have completed vaccinating over a lakh health workers each. Not all states, though, have held drives every day since the launch, unlike Karnataka and Andhra Pradesh.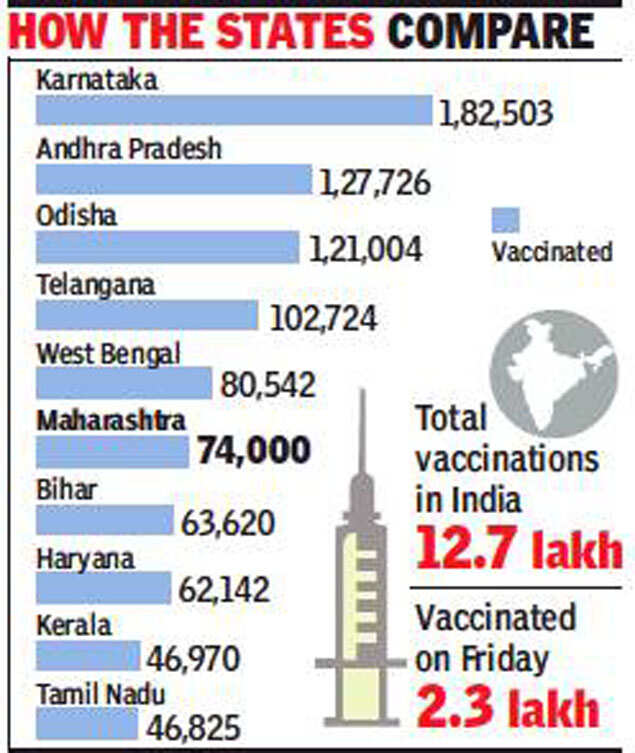 Maharashtra, in comparison, has completed vaccinating 74,000, covering around 9% of the nearly eight lakh healthcare workers. The notable turnout in Karnataka is despite the state witnessing two deaths—a health worker in Ballari district and a doctor in Shivamogga—although the state has labelled them as not directly linked to vaccination. N Ramaswami from National Health Mission argued the two top performing states had three more days of vaccination.
Interestingly, both Maharashtra and Kerala, two states with the highest active cases, continue to see a lukewarm response. In Kerala, not even 50,000 have been vaccinated. Authorities in Kerala have maintained that vaccination was a matter of "personal choice" and hence cannot be hurried.
Meanwhile, some have pointed out instances of fake vaccination claims in Karnataka. TOI Bengluru had reported on Friday how local officials have come across at least 20 instances where workers have not taken the vaccine but claimed otherwise.
Stating that vaccination will assume its own pace in different states, Dr Naveen Thacker, a former civil society organisation representative to the Gavi board, the Vaccine Alliance, said a rollout on the same day doesn't mean uniform execution. "There are teething issues which each state is tackling at their own level. What is important now is to have confidence-building measures to fight hesitancy," he said. A Bengaluru official confirmed that while Karnataka's absolute numbers are high, certain pockets have 50% uptake or less.
BMC executive health officer Dr Mangala Gomare said one cannot compare vaccination drives carried out in different states in terms of the number of people vaccinated. "One needs to look at the number of sessions that a particular state has been allotted by the central government (through the Co-WIN app). If a state has more sessions, it will be able to vaccinate more people at the same time than a state with fewer sessions.''
Pune-based public health specialist Dr Anant Phadke said, "A low turnout is because of vaccine hesitancy. But it is across the country. The government plans to vaccinate 3 lakh health workers every day, but in the first five days it managed less than 8 lakh vaccinations. Even at the rate of 3 lakh a day, it will take 1,000 days or almost three years to vaccinate 30 crore from priority groups."