NEW DELHI: Taking cognisance of an "unusual surge" in consumption and demand for oxygen in some states due to the rise in Covid-19 cases, the Centre has taken steps to ramp up production, utilise surplus stocks and also map requirement of high burden states with oxygen sources.
In a high level meeting of the empowered group of secretaries on medical supplies for Covid-19, the availability of essential medical equipment and oxygen during the pandemic was reviewed.
The current oxygen stocks of the country including the industrial oxygen stocks with the manufacturing plants are more than 50,000 metric tonnes.
Besides, in view of increasing demand for medical oxygen, the empowered group has also decided to float a tender for import of 50,000 MT of medical oxygen.
The government maintains there is sufficient production capacity of around 7,127 MTs for oxygen in the country, and as per need, the surplus oxygen available with the steel plants is also being utilised. The country has a daily production capacity of 7,127 MT of oxygen per day. Against this, the total production has been 100% since past two days. On April 12, the medical oxygen consumption in the country was 3,842 MTs, that is 54% of the daily production capacity.
"Empowered Group is monitoring the situation of demand and supply of medical oxygen continuously to ensure that all necessary steps are taken to support the uninterrupted supply of medical oxygen," an official said.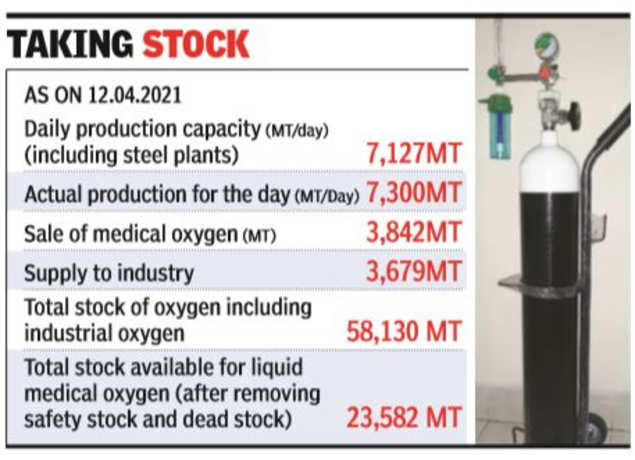 The Centre initiated mapping of 12 high burden states with highest caseload of active Covid-19 cases to oxygen sources. These states are Maharashtra, Madhya Pradesh, Gujarat, Uttar Pradesh, Delhi, Chhattisgarh, Karnataka, Kerala, Tamil Nadu, Punjab, Haryana and Rajasthan.
"Sources of medical oxygen and their production capacity was mapped to match the requirement of states and an indicative framework has been developed to guide the states on the sources of medical oxygen," an official statement said.
The Centre is also working to expedite completion of 162 oxygen manufacturing plants at hospitals that have been sanctioned under PM-Cares. Besides, the Empowered Group directed health ministry to identify another 100 hospitals in far flung locations for consideration of sanction for installation of such plants.
With the surge in Covid-19 cases in the second wave exceeding the previous peak, the share of serious cases under hospitalisation has also increased significantly as compared to the situation earlier in mid-August when cases were rising rapidly.
Currently, around 4.5% of active cases are estimated on oxygen support, whereas 2.31% are in ICU and 0.46% cases are on ventilator. In mid-August 2020, when the cases were rising, 2.43% of active cases were on oxygen support whereas only 1.77% cases were in ICU and 0.25% were on ventilator.
The Centre has asked the states to make rational use of medical oxygen and ensure there is no wastage of oxygen. Besides, the Centre has instructed the states to set up control rooms to ensure smooth supply of oxygen to the districts as per need, review requirement of cylinders and tankers.