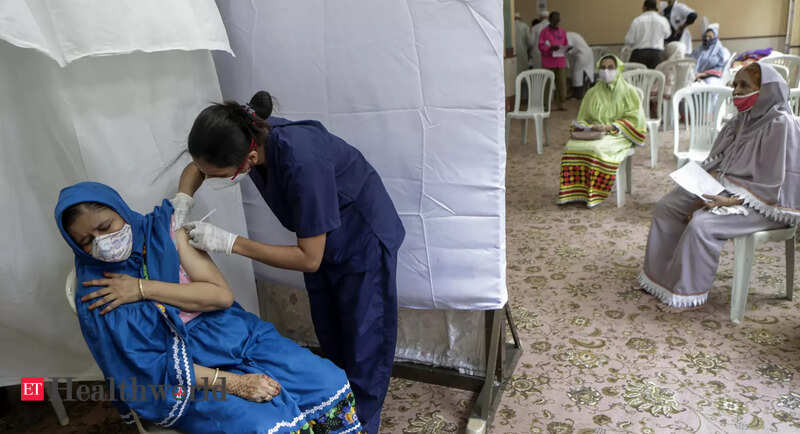 Except for one, all the 200 people who succumbed to Covid-19 over the past week in the 45+ age group were not fully vaccinated, despite being eligible to receive it.
A whopping 157 (87%) of them hadn't received even a single dose of the
vaccine
although it has been made freely available, while 25 patients (13%) had received just a single dose.
"A sizeable section of Goa's 60+ population has been vaccinated, but the statistics show that people who have died are the ones who have not taken the vaccine," a senior doctor treating Covid said. "Very few have succumbed after the first dose of the vaccine," the doctor added.
The government told the high court of Bombay at Goa last week that it has more than 2 lakh doses in stock for the 45+ age group, but people are not coming forward to take it.
President of the Indian Medical Association, Goa, Dr. Vinayak Buvaji said getting fully vaccinated reduces the intensity and aggressiveness of the virus.
"The Covid deaths in people who have been fully vaccinated have been very negligible in Goa," he said.
"We have to vaccinate at least 60-70% of our population for herd immunity to set in. We should complete this within the next two months to be prepared for the next wave. We have already been badly hit by this wave," Buvaji said.
As the adverse effects following immunization (AEFI) are negligible, he suggested that door-to-door vaccination be carried out to speed up vaccination.
"This must be done offline as unnecessary time is wasted on registration on the portal and in poor internet connectivity. The data can be loaded onto the portal at the end of the day. A team must have a ready list in hand and along with ward members move door-to-door for vaccination," the president of the Indian Medical Association said.
Source: www.health.economictimes.indiatimes.com