NEW DELHI
: Over 38% of healthcare workers infected with Covid-19 in India till October 1 are women, even as the proportion of female workers in the country are lower — comprising only a third of the total health workforce as compared to 70% globally.
In India, 79,772 women workers tested positive for Covid-19 till October 1. Cumulatively, over 20.2 lakh healthcare workers have been tested for the infection so far. Of this around 40% were women, official data show. Though a lower percentage share of women workers were impacted by Covid-19 in India as compared to men, it does show up the skewed ratio of male-female healthcare workers in India.
In India, the male-female ratio among healthcare workers is estimated at 1.6. According to WHO estimates, of all health workers in India, 38% were female. This includes doctors, nurses, midwives and ancillary healthcare workers. The share of female doctors is particularly low at only around 17% of all allopathic doctors in the country.
The UN Women report, which has analysed data from five developed European countries with focus on female health workers, notes that globally women are more than two-thirds of the workforce. "Women represent 70% of the world's healthcare workers and they are on the front lines of the pandemic and at increased risk of exposure to the virus. Emerging data from the Dominican Republic, Germany, Ireland, Italy and Spain have confirmed that among infected health-care workers, 72% are women," the report 'Progress on the Sustainable Development Goals: The Gender Snapshot 2020' says.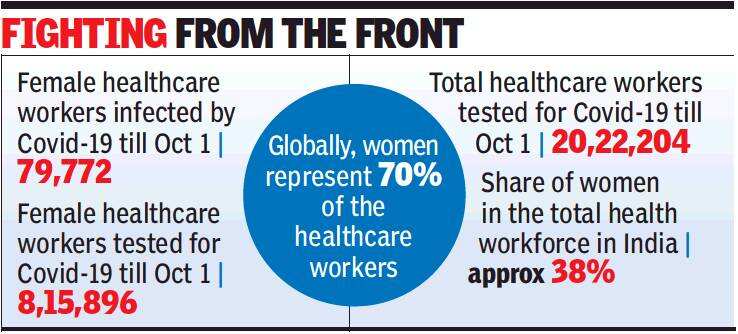 While healthcare workers form a crucial resource in the fight against Covid-19, women professionals in particular have a key role as they are often more acceptable to female patients in traditional societies, especially in rural settings.
Out of a total of 40,957 confirmed cases of Covid-19 among healthcare workers in Spain, 77% were women. Italy has reported 30,927 infections among healthcare workers, of which 70% are women. Out of 13,941 health workers infected in Germany, 73% were women. In Ireland, out of 8,691 cases of infections among healthcare workers 74% were women. Of the total health-care workers infected in the Dominican Republic, 66% (256) were women, the reports shows.